Unfortunately (or fortunately, depending on who you are), that wonderful time of quiet reflection and restrained chastity known as Spring Break has come and gone for most. If you spent your break on a beach, like I did, you probably noticed some... interesting swimwear choices. Nothing will top the time I went to St. Maarten and saw 80-year-old men prancing around in g-strings. Yecch.
I've been looking at
style.com
's feature "Spring 2007 Trend Reports," which (obviously) lists all the new trends, but they only talk about clothes. So I figured I'd try to translate their trends into swimwear. This way, when you go to the beach or pool this summer, you won't be stuck in something incredibly outdated (speaking of which, whatever happened to skirtinis?).
Sporty: Style.com pointed out the prevalence of anoraks, racing stripe-adorned track pants and leggings and hoodies on the runway (see: Proenza Schouler), in addition to logo tees and T-shirt dresses. So if you're trying to get that sporty look, go for a bathing suit that has a mesh overlay, or boy short bottoms, one that has a belt on the bottom (think Halle Berry's swimsuit when she was a Bond Girl).
This swimsuit by Stella McCartney for Adidas is quite possibly the most gorgeous thing I've ever seen. With a daring, yet flattering plunging neckline and that cool mesh overlay, this is something you'd buy to stand out. The best part is, you can actually swim in this -- unlike some other designer swimwear! ($120 at
shopadidas.com
)
Romantic: The romantic look basically means two things: flowers and ruffles. Now, the last thing most of us need is a big ruffle on our butts or boobs, so I'm just going to skip that one outright.

See, this is what I mean. Poor Giselle.
Instead, go for something like this bikini from Victoria's Secret.
I like how they split the print into three parts. It's far more interesting than an allover print, and gives it a graphic, artsy vibe.
If you're looking for a suit with a softer look, try this one from
spiegel.com
:
Pinup: Though this pinup look showed up on a
lot
of runways, they all had high-waisted shorts in common.
From the Akris Spring 2007 show:
I was able to find a website that had retro swimwear, like this cherry-print one piece:
($68,
www.pinupgirlclothing.com
)
Eighties: For the 80's look, think Fresh Prince of Bel-Air. Remember how Will used to wear like, 4 different neon colors in one outfit? That's where I'm going with this. Check out Christopher Kane's take on the 80's:
So, when it comes to swimwear -- think BRIGHT, like this bikini top from L*Space, who are quickly shaping up to be my favorite swimwear brand:
($55,
www.everythingbutwater.com
).
Space/Futuristic: Go nuts with it, but all I ask is that you avoid swimsuits that make it look like you have light rays coming out of your no-no spot:
Instead, pick something like this infamous bodysuit from American Apparel:
Consider yourselves warned, though: You
cannot
wear this in salt water.
Trapeze Artists: As you know, the trapeze is one of the newest shapes that's been seen on everything from dresses to coats. Obviously, this would be pretty hard to do on a bathing suit, so let's just look at some trapeze-shape cover ups. Try this pink fan-print top or the yellow cotton top, both from French Connection: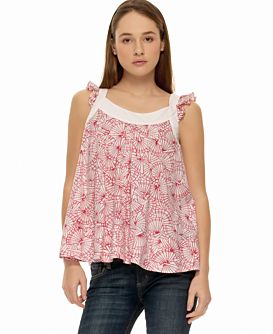 ($88,
www.macys.com
; $78,
www.frenchconnection.com
)
And for those of us who like to dream, this Philip Lim dress (it's kind of trapeze-like from the waist down), which you'd have to be crazy to wear as a cover-up:
(
sold out
,
www.blaec.com
)

(Runway photos from www.style.com)